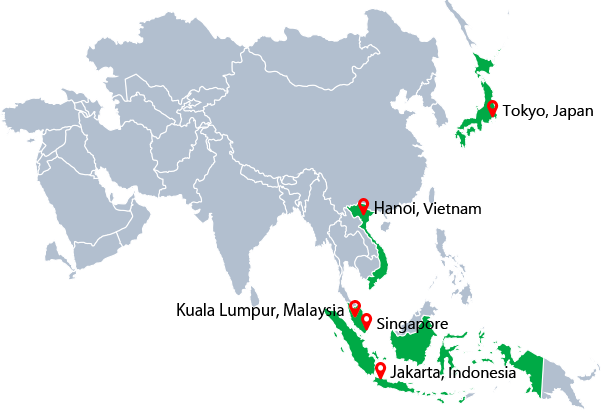 Kiso-Jiban Consultants Co., Ltd.
Overseas Division - Tokyo, Japan
Kiso-Jiban Consultants Co. Ltd.
Singapore Branch - Singapore
Kiso-Jiban Singapore Pte., Ltd. - Singapore
Kiso-Jiban (Malaysia), Sdn. Bhd. - Kuala Lumpur, Malaysia
Representative Office - Hanoi, Vietnam
Pt. Pondasi Kisocon Raya - Jakarta, Indonesia
---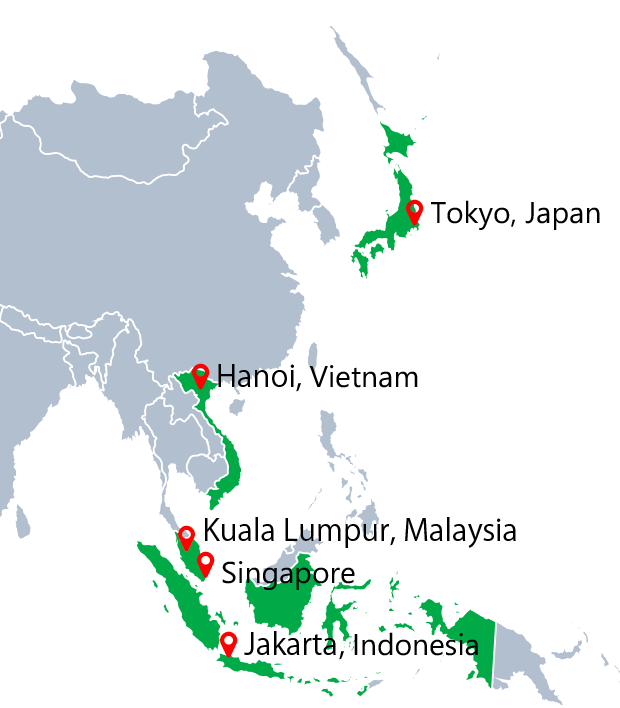 ---
Kiso-Jiban Consultants Co., Ltd.
Overseas Division - Tokyo, Japan
Kiso-Jiban Consultants Co. Ltd.
Singapore Branch - Singapore
Kiso-Jiban Singapore Pte., Ltd. - Singapore
Kiso-Jiban (Malaysia), Sdn. Bhd. - Kuala Lumpur, Malaysia
Representative Office - Hanoi, Vietnam
Pt. Pondasi Kisocon Raya - Jakarta, Indonesia
| | |
| --- | --- |
| Corporate name | Kiso-Jiban Consultants Co., Ltd. |
| Headquarters | 12th Floor, 1-5-7 Kameido, Koto-ku, Tokyo 136-8577, JAPAN |
| President | Yoshiyuki YAGIURA |
| Established | 28th August 1953 |
| Capital | 100 Million Japanese Yen |
| Revenue | 15 Billion Japanese Yen (October 2021 to September 2022) |
| Employees | 625 (as of 1st September 2022) |
| Certification | ISO9001, ISO14001 |
Kiso-Jiban's Geotechnical Engineering Services
Field Investigation
Laboratory Tests
Geotechnical Design and Analysis
Instrumentation and Monitoring
Computer Software Development
Training and Education Service
Research and Development
Corporate History
| | |
| --- | --- |
| 1953 | Doshitsu Chosa-jo (former company name) established in Tokyo, Japan |
| 1956 | Japan's first commercial soil laboratory established in Tokyo, Japan |
| 1959 | First overseas project in the Philippines |
| 1960 | Japan's first pressuremeter launched |
| 1964 | Company name changed to Kiso-Jiban Consultants Co., Ltd. |
| 1974 | Singapore Branch established in Singapore |
| 1982 | Kiso-Jiban (Malaysia) Sdn. Bhd. established in Kuala Lumpur, Malaysia |
| 1984 | Pt Pondasi Kisocon Raya established in Jakarta, Indonesia |
| 1997 | Hanoi Representative Office established in Hanoi, Vietnam |
| 2003 | High quality soil sampling technology "GP sampling" developed |
| 2011 | Kiso-Jiban participated in offshore soil investigation works for one of the world's largest port in Singapore |
Kiso-Jiban is an engineering consulting firm experienced in all phases of civil engineering project management, from economic and environmental feasibility studies, through to construction supervision, start-up and monitoring. Kiso-Jiban is especially well-known for its comprehensive capabilities in the field of geotechnical engineering, which encompasses subsurface investigation, soil and rock mechanics, engineering geology, foundation analysis and design and groundwater management.

Established in 1953, Kiso-Jiban has served industry and government in Japan and in over 60 other countries. Work undertaken for the private sector includes high-rise buildings, manufacturing plants, power-plants, transmission lines, nuclear power-plants, offshore structures, tank farms and shipyards. Government funded projects include railroads, highways, airports, harbors, ports, bridges, irrigation systems, man-made islands, hospitals, housing developments, tunnels, dams, subways and sewage treatment plants. Kiso-Jiban has also carried out field survey work, such as seismic exploration, topographical mapping, and geotechnical, geological and environmental hazard assessment.

Project work is handled through Kiso-Jiban's network of branch offices and technical centers. With a professional staff of over 450 engineers, geologists and scientists, Kiso-Jiban is able to staff seven main branch offices in Japan, foreign offices in Singapore, Kuala Lumpur, Jakarta, Hanoi and three independent technical centers, for Computing, Soil Mechanics and Rock Mechanics.

Maintaining excellent communication between branches and centers is at the heart of Kiso-Jiban's strategy to provide efficient, expert service to our clients. Although the Centers' primary responsibility is research and training, center staff are also available for project work on an advisory or project member basis. The many innovative patents and publications authored by Kiso-Jiban staff testifies to the success of this organization at maintaining the company's pioneering role in geotechnical engineering.

In recognition of the breadth of Kiso-Jiban's experience as well as the individual achievements of its staff, Kiso-Jiban is often asked to participate in international investigations of geotechnical engineering problems and reviews of large scale, public construction projects. Increasingly, these reviews take place in the greater context of pending or ongoing litigation, where engineering concerns share the stage with contractual, environmental, and social issues. These situations shine a spotlight on the changes that are sweeping across the whole of the civil engineering industry.

Kiso-Jiban believes the future for civil engineering consultants lies in meeting the challenge of maintaining growth in engineering excellence while broadening knowledge and experience to meet the expanding needs of clients in what is becoming a very interdependent world. To meet this challenge, Kiso-Jiban relies on the continuing education, stability, and change-welcoming attitude of its staff. As an international company, time and time again, we have fielded the flexibility and innovation to successfully complete a wide variety of projects in an equally wide range of cultural and business environments. We plan to keep listening to our clients, and to move forward into the future, ever capable of providing service at the highest level.
---