Donggi Senoro Liquefied Natural Gas (DSLNG)
---

---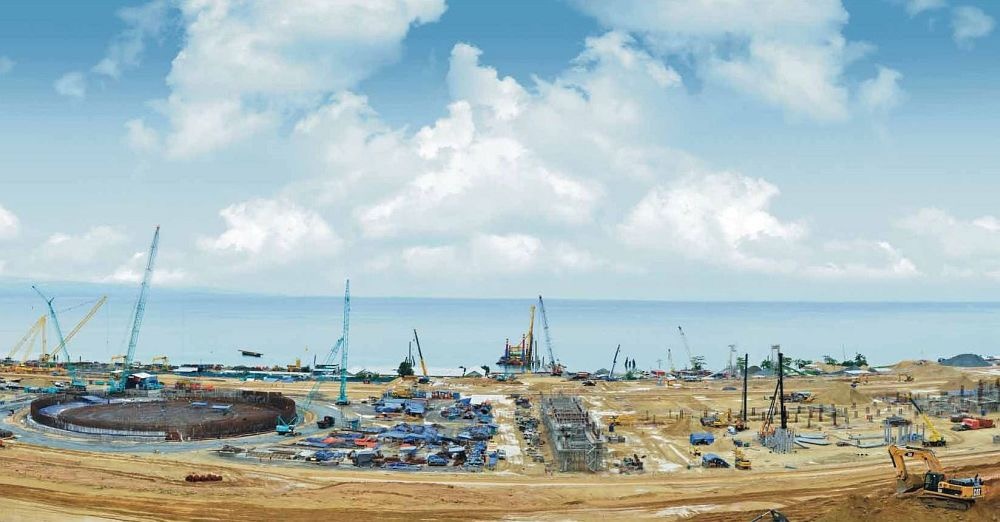 The Donggi Senoro Liquefied Natural Gas (DSLNG) is the first Indonesian LNG project developed as "downstream business activity." DSLNG was established as a foreign investment company and is now with shares owned by PT Pertamina Hulu Energy (29%), PT. Medco LNG Indonesia (11.1%), and Sulawesi LNG Development Ltd. (59.9%). The plant site comprises about a 100 hectares of land along the coast facing the Peling Strait, which provides a deep sea water route from Surabaya and Makassar to Luwuk and Manado. Infrastructure to be built includes a single train LNG liquefaction plant and supporting utilities, a jetty for supplies and equipment, an LNG storage tank and an LNG loading jetty with supporting administrative facilities. The liquefaction plant will have the capacity to produce 2 million tons of LNG per year and will use the proven technology of Air Products and Chemicals Inc. (APCI) to liquefy the gas. Construction of the plant began on February 28th, 2011 and the first LNG cargo is plan for shipment in late 2014.

PT. Pondasi Kisocon Raya started to provide the services of soil investigation in 2008 with nearly 2600m drilling lengths that comprised of offshore boring at 24 points for the design of Jetty and onland boring at 60 points for the design of the plant. Geotechnical interpretative report and foundation recommendations for the jetty and the plant were then provided. Partnering with a local survey company, PT. Pondasi Kisocon Raya also provided the services of topographic and bathymetric surveys and the coral reefs rapid assessment and life-form survey.

As cavities were found in the investigation in some areas, proof boring to locate the existence of cavities was performed in the year of 2011 with over 200 points of proof boring and total drilling lengths of nearly 6,300m. At the same period, supported by a local survey company, PT. Pondasi Kisocon Raya also conducted additional topographic and bathymetric surveys and the magnetometer survey.

In late 2011, PT. Pondasi Kisocon Raya assisting a ground improvement specialist from Japan has conducted chemical grouting to improve the weak zone under a tank area at which cavities were identified. PT. Pondasi Kisocon Raya also performed check boring to verify the improvement of the chemical grouting.
---